When it comes to succession planning, managing family dynamics is crucial
For Janik and Chuck Cardinal, one of the worries of transitioning their sound and lighting business was how it would affect their family dynamics.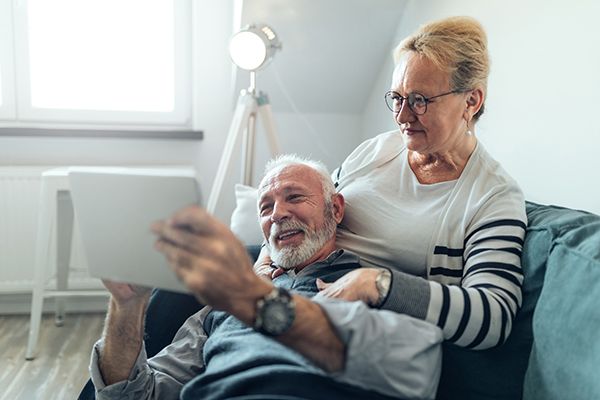 People and events featured in the Green Lake series are composites based on real MNP clients.
---
Janik and Chuck Cardinal were enjoying their life at the cottage by Green Lake after running their acoustics company, Sonic Enterprises, for 25 years. Since starting as a part-time venture, the business had grown to more than 50 employees and was serving clients in Canada, the United States and Europe.
In addition to providing expertise on sound and lighting, the company now developed and installed its own custom technology in clients' venues. Along the way, Janik and Chuck had four children and by the time the kids were all in high school, the company had annual revenues of almost $20 million.
Chuck felt strongly about keeping work and family separate and discouraged his children from working at Sonic. He wanted his kids to grow and flourish on their own and to have their own lives without being bossed around by their parents at work.
So, he made it clear to all four children from a young age that they would not get jobs in the family business.
"We have a great family life," Chuck used to say. "Why would we take the risk of ruining that by bringing our kids to work with us?"
But one year, Cole and Amy, the two eldest children, begged their parents to hire them for the summer. Chuck thought about it, and relented. After working at Sonic for several summers, Cole and Amy joined the business full time after completing university.
When Chuck and Janik reached their mid-fifties, they began to think ahead to retirement. They sat down with their MNP advisor Rick and began to discuss their options. By then, Cole and Amy were each in management roles, running different parts of the business.
Soon, Janik and Chuck invited Cole and Amy to a meeting with Rick and offered them the option to take over the business. Both children were surprised and said they weren't interested in being there if their parents weren't.
Janik and Chuck were back to square one. After a few more conversations, they went back to Rick and started the process of putting their company up for sale. Janik was determined to resolve everything while she and Chuck were still young and healthy.
About a month later, Cole and Amy reconsidered and asked for a meeting. Until it had been raised, Amy and Cole had never really considered taking over. Now they were warming up to the idea, and had a number of questions around costs and raising funds.
On Janik's part, she was concerned what the impact on the two younger children, Tom and Sandra, would be. Working with their MNP advisor, the family decided to have an independent valuation of the business conducted so they could arrive at a fair price for everyone.
Based on that, the children agreed to pay a total of $16 million, including $4 million in advance, which Cole and Amy would borrow from the bank, and $12 million that would be paid from the proceeds of the business over the next few years. Janik and Chuck would remain in control of the business until the payments were complete, but the children would assume more responsibility for day-to-day operations.
Janik and Chuck also decided that after the sale was complete, they would divide their estate evenly among their four children. That meant the children each stood to benefit equally from the proceeds of the sale. They also had to consider what would happen if they died before the payments from their children were complete. Would Tom and Sandra then become equal partners in the business and potentially have some say in how it was run?
This was a potential deal-breaker for Amy and Cole, but the potential for discord was also a concern for Chuck and Janik. "Our number-one criteria," said Chuck, "is that everyone gets along, now and always."
To solve the issue, the company took out an insurance policy on the parents. If Janik and Chuck died before the buyout was complete, the proceeds from the policy would be used to pay the remaining balance. Then all the children would get an equal share and Cole and Amy would own the business.
Now, as she listens to her other neighbours at Green Lake and their succession experiences, Janik is grateful that everything in her family business was resolved. For her, one of the burdens of owning a business had been the uncertainty over what would happen to her children and employees if she and Chuck were to face health challenges or become unable to run the company. With the help of their MNP advisor, transitioning the business was sorted out and, most importantly, the family harmony Janik and Chuck had always valued was intact.
---
Key MNP Insights
It's important to keep all possible options open for a successful transition, including third-party sale, management buyout and family transition.
Managing family dynamics is crucial: it's important to ensure family members inside and outside the business are consulted on transition and are part of the process.
Using an independent valuation can help establish a fair-market price for children in the business who are purchasing from the previous generation, and protect the interests of the children not working in the business.
Insurance is a possible solution to help maintain fairness among siblings in the event of a death before the transition cost is fully paid.
Having a contingency plan in the event of a sudden death or illness is also helpful.
Will you know how to keep your family harmony intact?
For more information on how MNP can help you plan for succession, contact , CPA, CA, National Leader, Succession Services, at